Morgan's Point Marina near Temple TX
Hit by Tornado 27 May 1997
Tuesday 27 May, 1997 a tornado destroyed a marina and several boats north of Austin TX. News reports were sketchy but we understand that Morgan's Point Marina on Lake Belton outside of Temple TX was hit by part of the storm that hit Jarrel TX causing over 30 deaths. We have seen reports of 5 to 80 boats destroyed and originally two groups of people were missing, but later were accounted for.

We posted a note in rec.boats asking for any local information or photos and received a note (copy below photo) from a local boater with a great news photo shown below.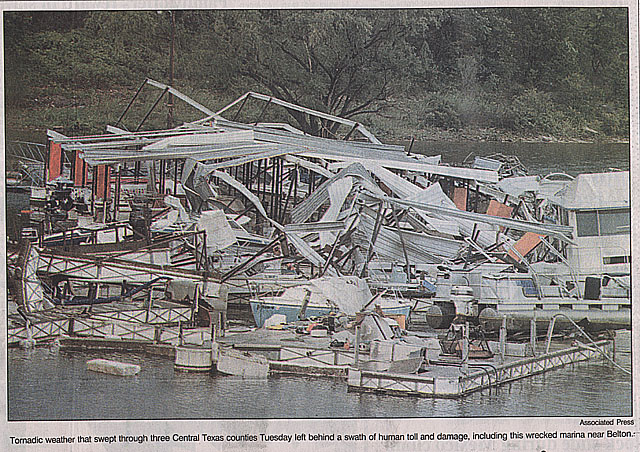 Date: Mon, 02 Jun 1997 22:24:02 -0500
Subject: morgans point marina tornado

saw your post from deja news which is listed below. i also attached a
picture of the marina. we took our boat out of the marina a week before
the tornado. the whole marina is basically gone.millions of dollars
worth of damage....talk to you later