Mercury Marine Announces Xtranet in Europe and Soon in U.S.
---

RBBI - For additional information to the story below, visit the Click Interactive Web site , select "Portfolio", and click on the Mercury Marine and Marine Power Logos. The Mercury Marine information says service information and a parts viewer are also included.

---
An Extranet That Works in Eight Languages Marine Power Europe - Mercury Marine
Web Week 12 May 1997 Pages 19-20.
By Ellis Booker

As others have noticed, the world is polyglot but the Web is not. But that is changing in one small corner of the globe with an extranet that appears in eight languages, depending on the location of the sales agent.

A month ago, boat engine manufacturer Marine Power Europe deployed an extranet that lets a network of thousands of independent agents search its inventory, order parts, check the status of those orders, get account statements, and fill out an online warranty--all in their own native language. The site, in Li¸ge, Belgium, will operate in French, English, German, Italian, Dutch, Danish, Norwegian, and Swedish.

"They were maintaining 20 or more order takers in different country offices," said Rick Mathy, the IS manager for Mercury Marine, the North American sister company of Marine Power Europe based in Fond du Lac, Wis. Both units are divisions of Brunswick Corp. of Lake Forrest, Ill.

Mercury Marine is likewise developing an extranet, which will be entirely in English. Both are being done by Click Interactive of Chicago.

"We'll have 10 extranets up and running this year, all with domestic companies with international operations," said Michael Ferro Jr., Click's president. Marine Power Europe's extranet works by using templates contained in the Windows NT Internet Information Server. The business logic for the site, however, resides where it always has for Marine Power's inventory systems, inside its IBM AS/400 host.

Prior to the extranet, the European agents typically retrieved the information from this host by telephone or fax.

Meanwhile, the same template is being readied for use among Mercury Marine's network of 2,500 dealers in the United States and Canada. A beta test is due to start in the next few weeks, according to Mathy. Unlike the Marine Power site, however, it will be launched in English only.

If successful and embraced by the agent network, Mercury Marine's Web system will replace an online system dating back to 1985 that first used a dumb terminal interface, then moved to DOS and migrated to Windows late last year. That system, known as Mercury Interactive Dealer Access System (MIDAS), is driven by homegrown software on the company's IBM 3090 mainframe. It now accounts for half of Mercury Marine's incoming orders.

Click's customers pay between $200,000 and $1 million for Click's Extrascape Suite, its software platform for creating a multilingual extranet site and associated consulting work.For now, Click is concentrating exclusively on extranets, and is further specializing in manufacturing companies that have large, multi-lingual networks of dealers, suppliers, and partners. "Manufacturers are where we started, and where we want to dominate," said Ferro.

Interestingly, none of Click's current customers has an intranet today. "There's an impression that extranets leverage an intranet, but this isn't the only model," said Ferro.

International attention

For the Marine Power extranet, the goal is simplicity of content and speed of delivery. This site (and Click's other projects, for that matter) uses variations of the same lean design, which largely avoids any fancy graphics, plug-ins, or Java or ActiveX content. As Ferro puts it: "The design is for interactivity, the ability to ask a question and get an answer immediately." It is partly with this in mind that Click also builds, for each of its customers, a CD-ROM version of the extranet site. Given to a remote agent, the CD-ROM is an offline version of the extranet, which can be accessed and used just like the online system. Once the agent has, for instance, filled out an order, this information is uploaded to the Internet site in batch. The CD-ROM was, again, fueled by an appreciation for the international setting, where telephone and ISP rates are much higher than in the United States.

While Click's Ferro said the costs are "incremental" to add a multilingual aspect to an extranet, some analysts disagree.

"When you begin to do things like dynamically generate Web pages, multiple language becomes a real challenge," said Ed Schaider, a vice president at Massachusetts consultancy Standish Group International Inc.

"The cost of these enhancements has to be weighed," Schaider said. "It might be more cost-effective to put the money into R&D on a new propeller design than on personalization for the Khazakistan sales office," he said.

That caveat aside, Schaider was quick to agree that Americans are thoroughly insensitive to European markets with their normal marketing, a tradition that has extended to their Web efforts.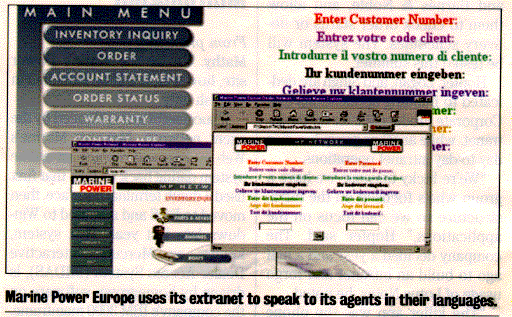 Reprinted from Web Week,
Volume 3, Issue 14, May 12, 1997
Mecklermedia Corp. All rights reserved